Who needs some new ideas and likes free light setups?
We do! That's why our dear friend Christian vom Hofe  has been very creative and we're able to bring you something special, before we go straight to our V2.0!
Do you lack some inspiration? Do you need a little hint for new ideas?
– Say no more! We have a huge package with 30 cool lighting setups for you to dwonload here!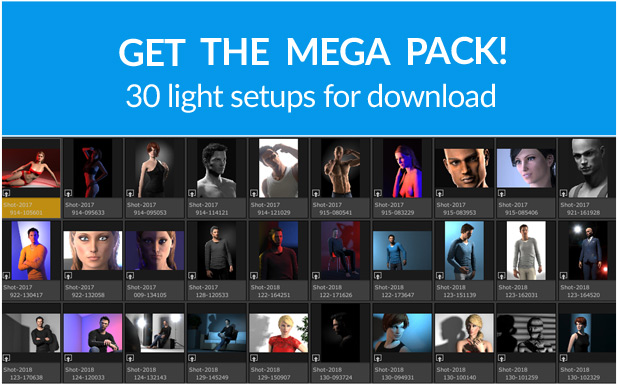 Just one light and a simple style, or do you like a complex build-up with several light sources better? Everybody will find somehting here!
We'd like to thank Christian who created lots of these setups – and now we're going to share them with you!
Everybody knows these days…
You just don't have any good ideas fopr your next shooting. You start to search the world wide web, then go over to look through big booklets and literature…
–> Why don't you just open our bundle of setups in set.a.light 3D and change them up just like you want to?

Just remember that your file has to end with .set in order to be able to open it with set.a.light 3D (your browser could accidentally change that, but don't worry).
DOWNLOAD >> 30-lightsetups.set <<
And the most important thing:
We want to see your results! Tag them  with our hashtag #setalight3D on Facebook or Instagram or hit us up with @elixxiersoftware.
You can send us a private message or e-mail as well, if you'd like to show us your photos ;)
Have fun with our bundle!
This post is also available in: German