Cincinnati (Ohio) based photographer Ron Hautau created a dynamic and colorful lighting series in set.a.light 3D, that will catch your eye. Using colored gels, he was able to manipulate the light in a direction of an art aesthetic.

He explains, that some of these setups were inspired by futuristic sci-fi movies, like "Ghost in the Shell" and that he played with having the model look like a clone mannequin on some of the snapshots, that fitted well with the sci-fi vibe.
We took a closer look at the lighting setups behind his creations, talked to Ron about the challenges he faced in learning how to use flash and Ron explains why the ability to read light is essential for photographers.
Tell us how you got into photography, Ron?
I started with a Canon T2i DSLR doing landscapes. I discovered a lot of photographers on YouTube who shot portraits, and it looked like lots of fun. I decided I want to try them, and in 2019 I started shooting portraits and fell in love with them.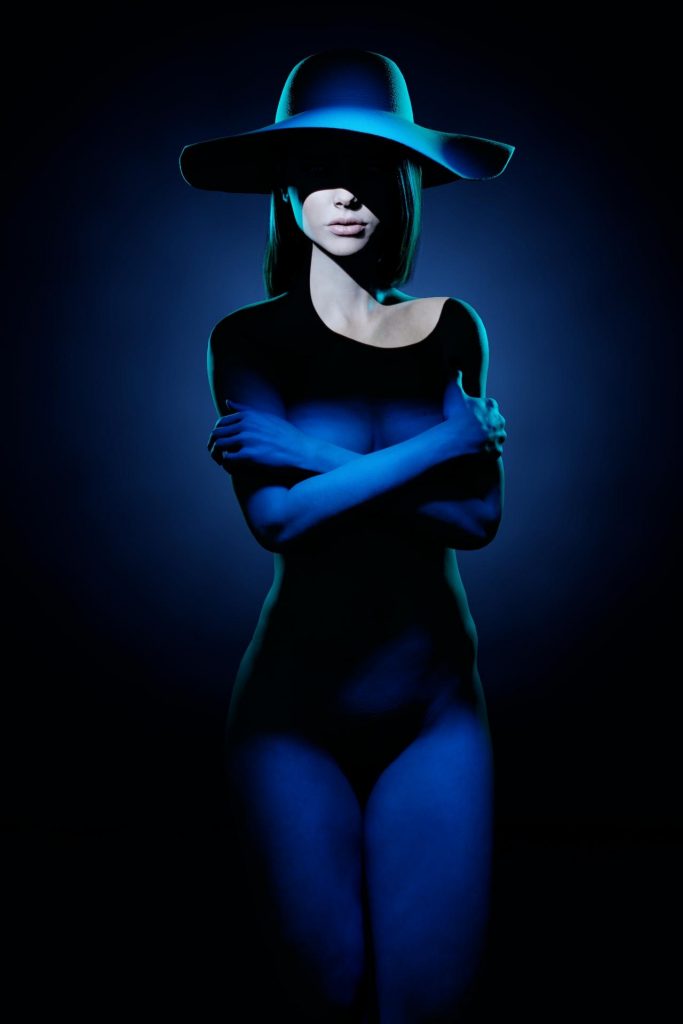 Did you find it difficult or easy to make your first steps with strobe lighting and why?
I found it easier than expected. It's easy to get overwhelmed with lighting info and theory, but if you just go and experiment you'll find it's not as tricky as you think.
What challenges had to be overcome?
For me, mostly finding a larger studio space. I started shooting in my living room, but the room dimensions were too small for some setups. You can still get good photos in small spaces – don't use it as an excuse not to shoot.
What tips would you give a beginner to learn quickly and well how to handle light?
Experiment and Practice! Don't be afraid of making mistakes – you will learn more from your mistakes than your successes. You can start with one light and experiment with one light by changing positions, distances, and modifying it to change the quality (hard or soft). Once you're comfortable with one light you can add a 2nd or 3rd light. Try to understand the purpose and function of adding more lights, and you will learn where and why to use them (e.g. a rim light to create subject separation from a dark background, etc.)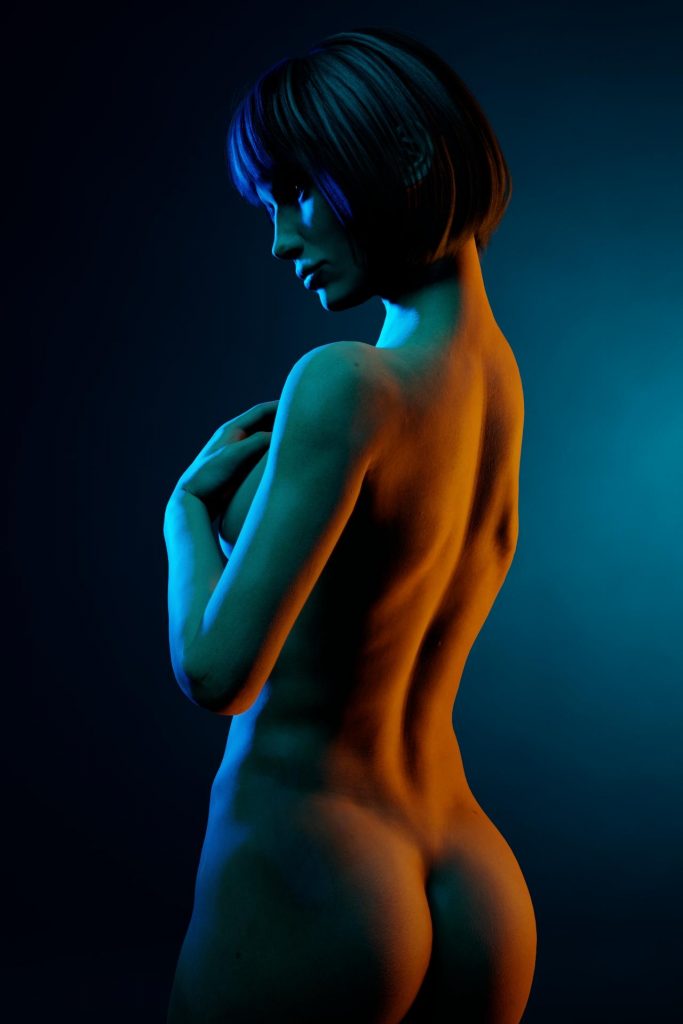 How did you use set.a.light 3D to learn lighting?
I used set.a.light 3D to learn to "read light". I did this by looking closely at setups and studying how they were lit. I then used set.a.light 3D to reverse engineer and recreate them.

Being able to read light is such a useful skill for photographers. After some practice doing this you'll be able to look at an image and have a good idea how it was shot and how to recreate it.
Some examples:
Catchlight = light modifier used
Direction of the highlights and shadows = position of the light
Quality of light (hard/soft) = size/distance of the light
Light fall off speed = Distance of the light (inverse square law)
You would like to know more about the inverse sqaure law?
Than click the link below and read more about it in our blog article:
https://blog.elixxier.com/en/lighting-design-the-easy-way-secrets-of-inverse-square-law/
Experimenting is a fast way to learn, and set.a.light 3D massively speeds up this process as you can do it all instantly from your computer. Seeing the lights move and change in real time from any angle is truly eye-opening. I recommend reading the set.a.light 3D manual to learn the hotkey shortcuts – they really speed up your workflow.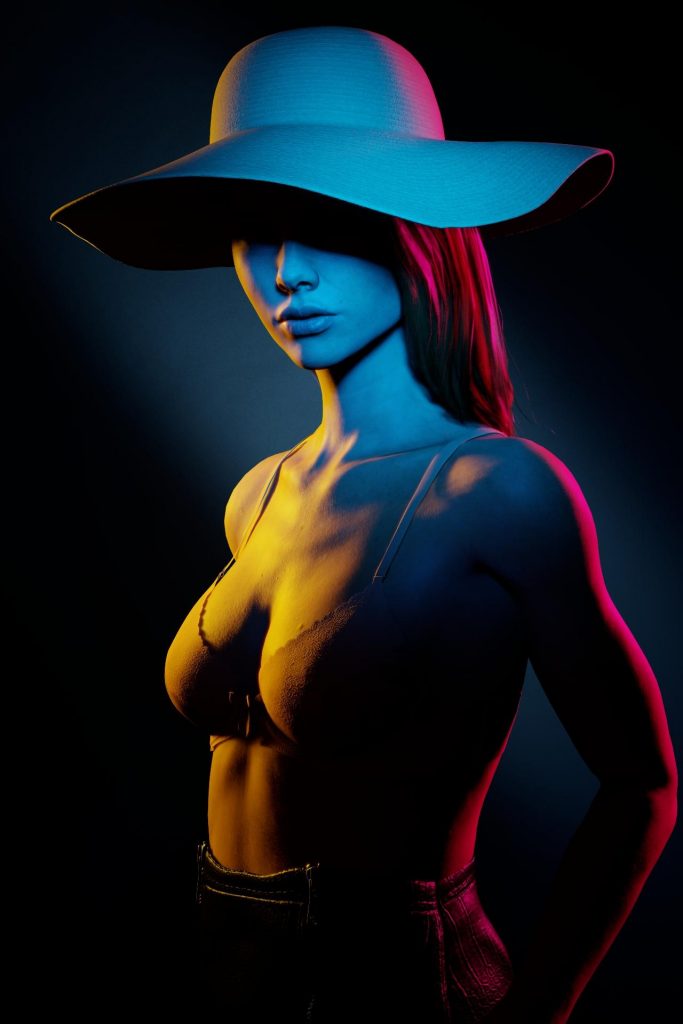 In what way does set.a.light 3D help you to plan upcoming shoots? How do you go about it?
I use set.a.light 3D for any studio shoots where I want to test out and create lighting setups. I customize the program to have the same strobes and modifiers I actually own.
I take many different snapshots, trying out different things. I then look through and rate my favorites. I refine those setups until I have something I love and want to shoot.
I export the set plans and I'm all ready to recreate it in the studio. Its amazing how accurate the program comes to the actual finished shots. I have confidence that if it works in set.a.light 3D, it will work in real life.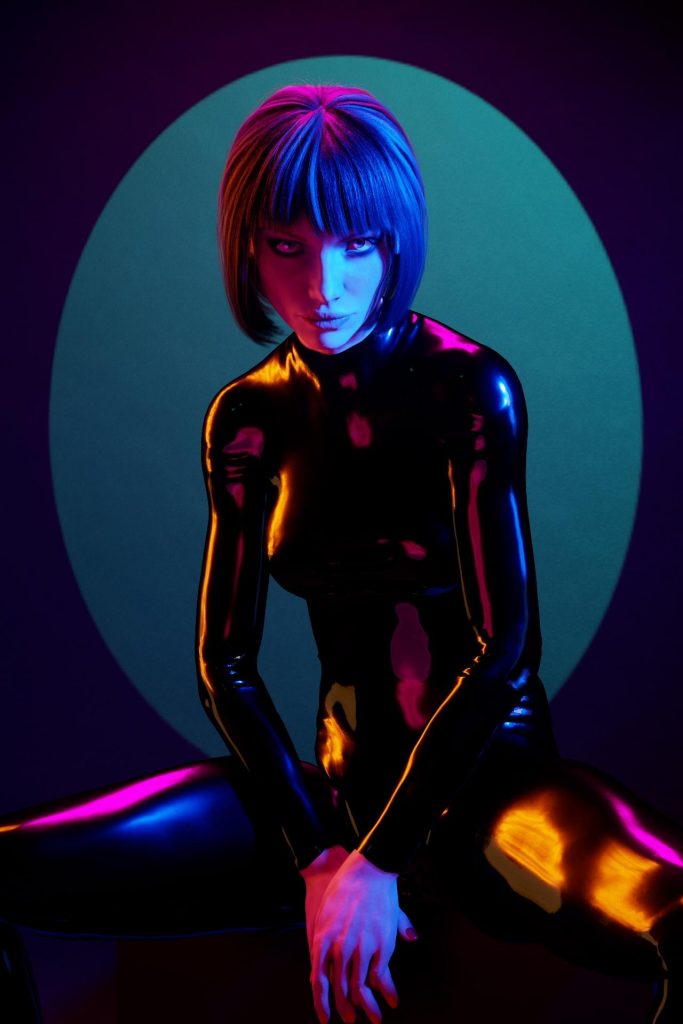 The Lighting Setups

Please tell us something about the lighting concept of this series
I love colorful gel setups and low key lighting so I wanted to play with that. I used some complementary sci-fi inspired colors. I really liked the shadows created by angling the lights from above so I made those a focus. I think shadows can add some depth and mystery to an image.
Where do you find ideas for your shoots and creations? Was there something that inspired you to create this series?
I find a lot of inspiration on Instagram from other photographers – especially photographers like Lindsay Adler. She's a master of lighting and is also a fantastic teacher.
Setup 1 – Tri-Color Setup
This is a a tri-color gel setup. I used hard lights to shape the subject and I used grids to control the spill of light (as well as an optional black v-flat). The background light (2) uses barn doors to create a slice of light.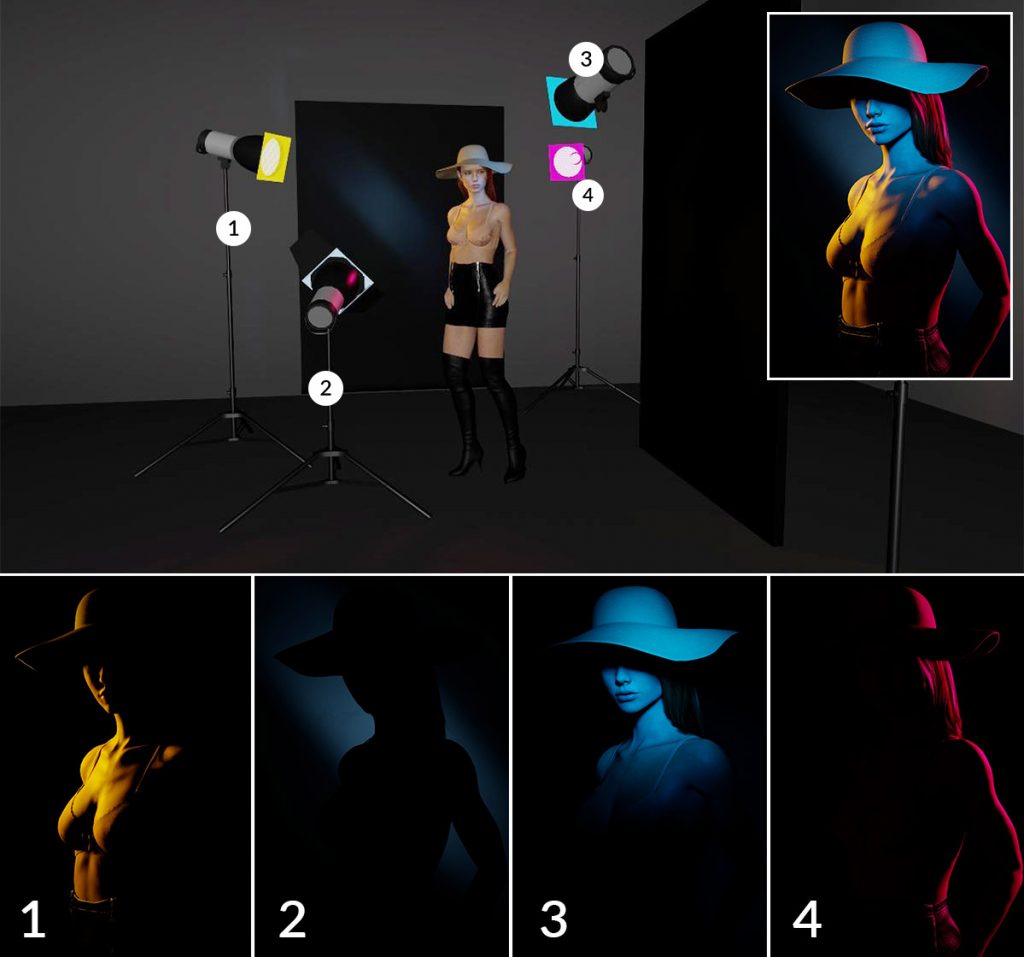 Setup 2 – Tri-Color Body Shot
This is a tri-color gel setup that I like. The key light (2) provides soft fill on the subject. Two other lights (1 + 3) shape the body with complementary colors. Feel free to play with different colors. One light is hard and the other is soft. A background light is used to add some separation.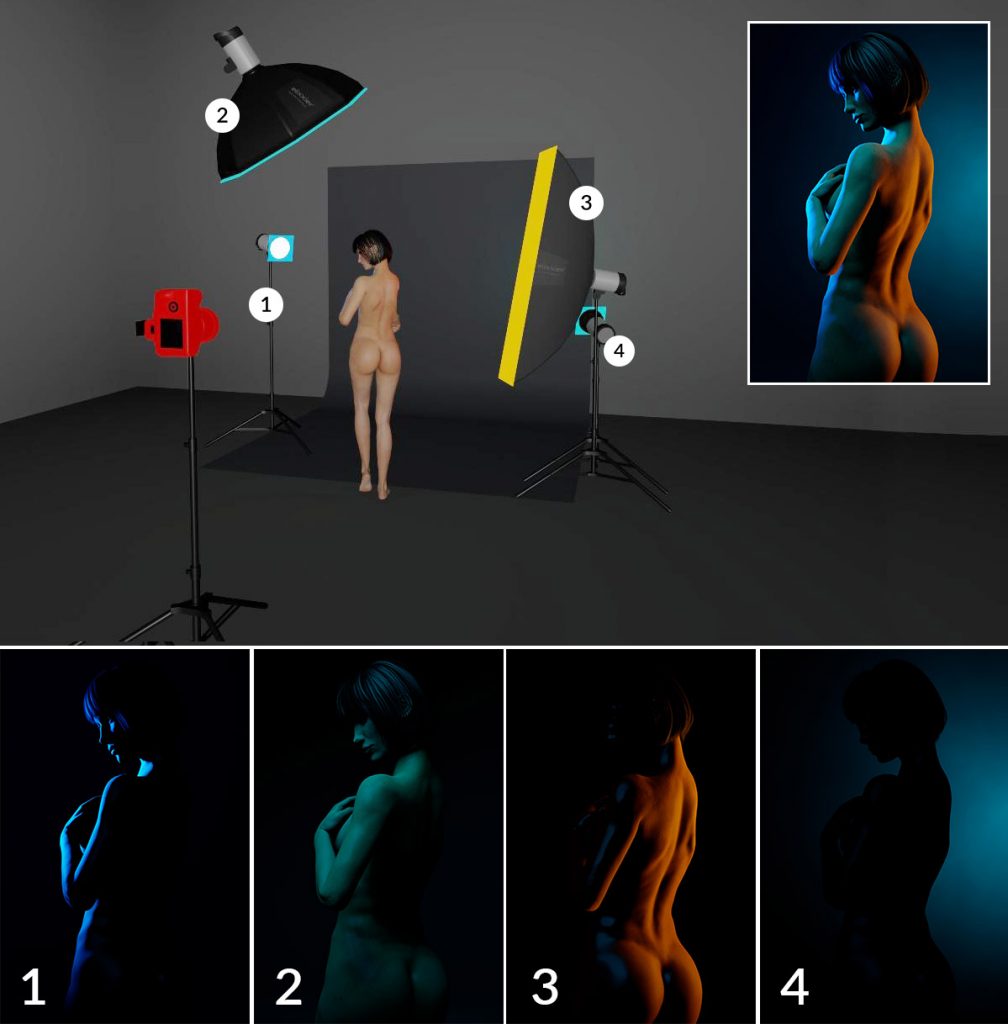 Setup 3 – Outrun Gels
This setup is inspired by the "Outrun" art style, which is an aesthetic based on 1980s sci-fi films and video games. Blue (5 + 6), Orange (3) and Pink (1+4) lights are used to highlight each side of the model. A gobo optical snoot (2) is used to create the background circle.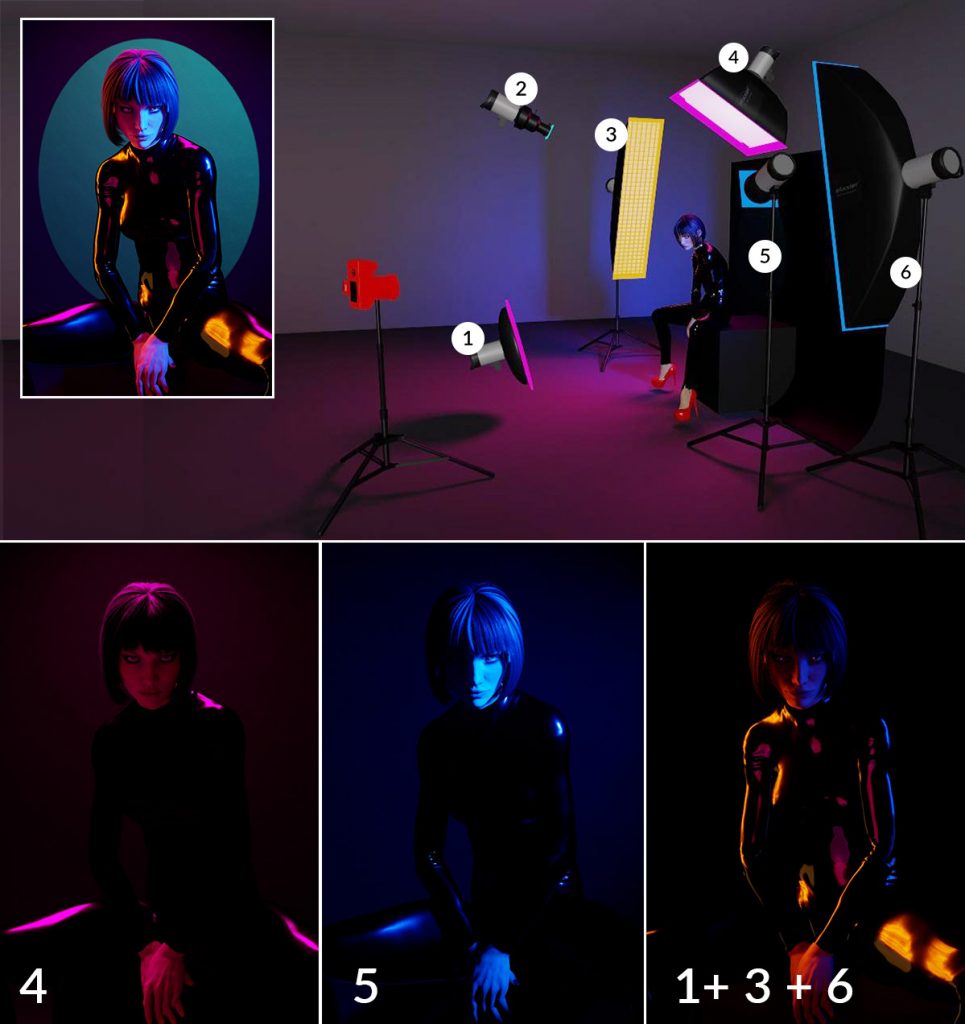 Setup 4 – Shadowplay
I loved the the shadows created by hard lights against the brim of a hat. The lights are angled so that parts of the model are purposefully in shadows.
The key light is a gobo (5) with a circle pattern to cast hard white light on the models face and body. I liked the eyes hidden. I also thought white light looked more interesting angled off-axis asymmetrically – the shadows on her shoulder look like a dress slipping off.
A second blue light (4) directly overhead paints the model in blue and creates more shadows.
The third and fourth light (1 + 2) are rim lights with teal gels to highlight the shape and create separation.
The fifth light (3) is a blue background spot light for additional separation.
You got curious where to find the lighting setups?
Open your set.a.light 3D V2.5 (You don't have it? Here is some info)
Click on the new tab COMMUNITY
Enter the number "11033550 ", "11033864", "11033865" or "11033549" in the field "Light Setup ID" and click "Filter"
Like, comment or download the setup directly into your timeline
You don't know the set.a.light 3D community yet?
Find all details here: https://blog.elixxier.com/en/official-release-set-a-light-3d-v2-5/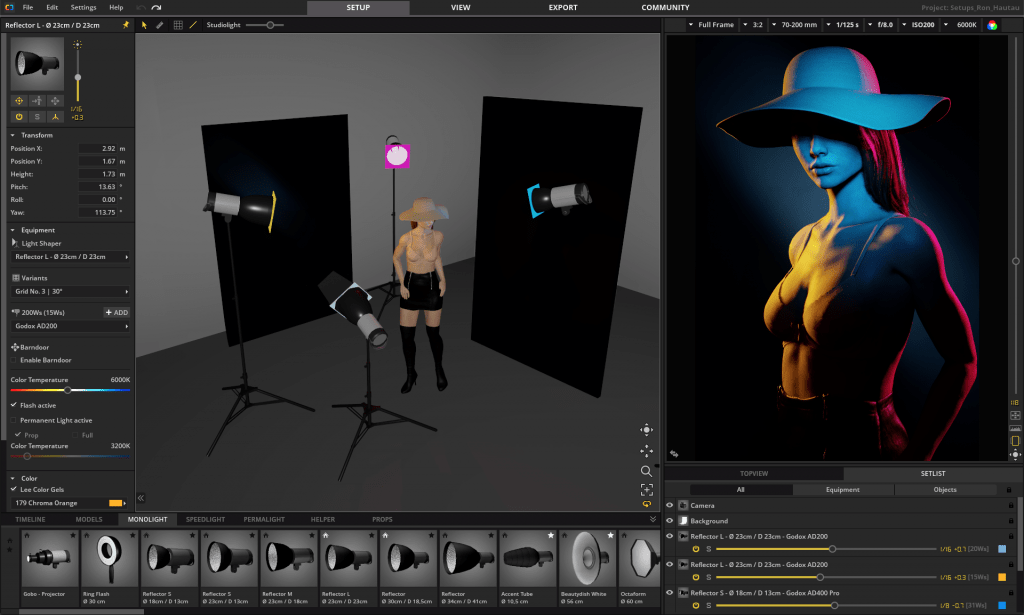 Follow Ron Hautau:
Website: https://ronhautau.com/
Instagram: https://www.instagram.com/ronhautau/
Facebook: https://www.facebook.com/Ron.Hautau
Youtube: https://www.youtube.com/channel/UC-assqvElf0R9GzUgEg2Wbg
This post is also available in: German