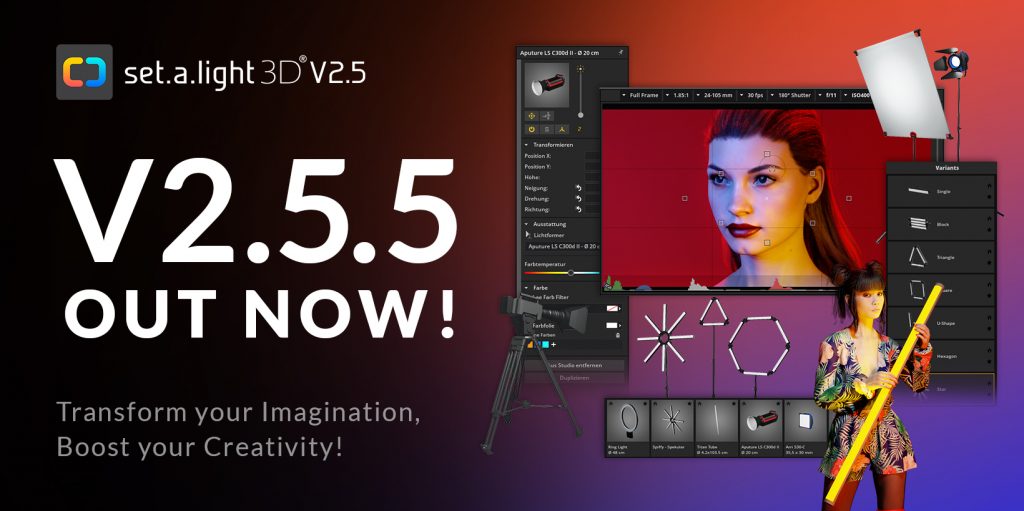 set.a.light 3D V2.5.5 is here!
(Free for all V2 Users)
We`re happy to announce, that set.a.light 3D V2.5.5 is out! This Update is HUGE and brings new tools that extend your ability to create more complex lighting setups and creations, improves the handling of 3D objects and offers totally new combination options and much more.
Explore the new features
Whether you're a photographer, filmmaker, dop, gaffer or artist, the V2.5.5 release has something for you – but especially filmmakers will be happy about some of the new features. New Lights, new models, scrims and lots of new content are waiting to be discovered. Lighting setups and previsualizations can now be created in even greater detail.
–> Full list of novelties at the end of the article
UPDATE HIGHLIGHTS
Diffusion Panels (Scrims) for soft light
You wanted it, we made it work! Shaping the light through a scrim is essential especially for filmmakers, as it can transform a hard light into a diffused light – just by placing this magical piece of fabric in front of it. This feature is now available in set.a.light 3D. You can find the diffusion panel in the studio library in the section "helpers". It`s a multifunctional tool, that means that you can adjust it to your needs by determining the size and density in the detailed settings. The tripod can be hidden.
(A powerful graphics card is recommended).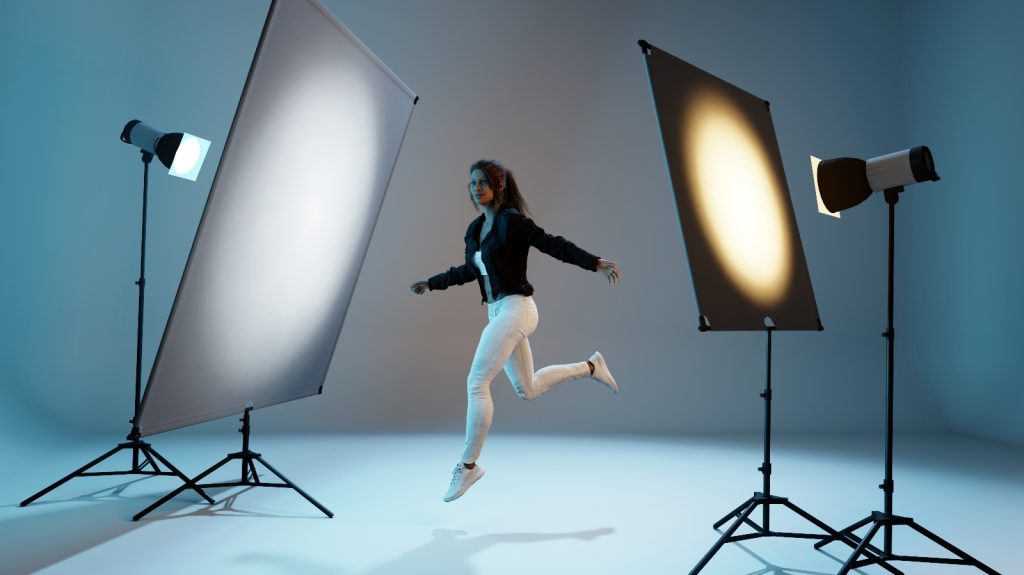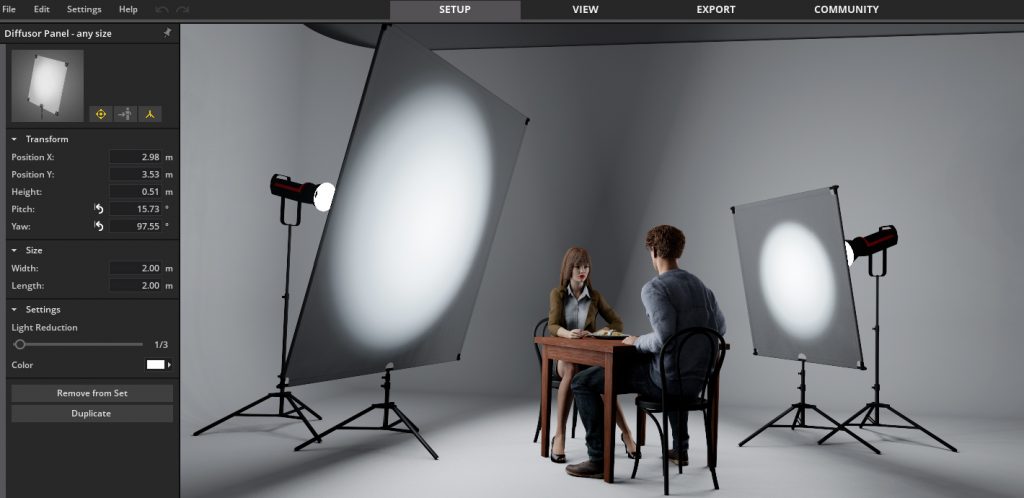 Spiffy Gear Spekular lights
We`ve added a wide range of Spiffy Gear`s Spekular lights. These modular LED lights can be used in sal3D in these shapes: Strip (single light), Block (panel), Triangle, Square, U-Shape, Hexagon and Star. This gives you powerful new possibilities to plan your lighting setups and try out new things.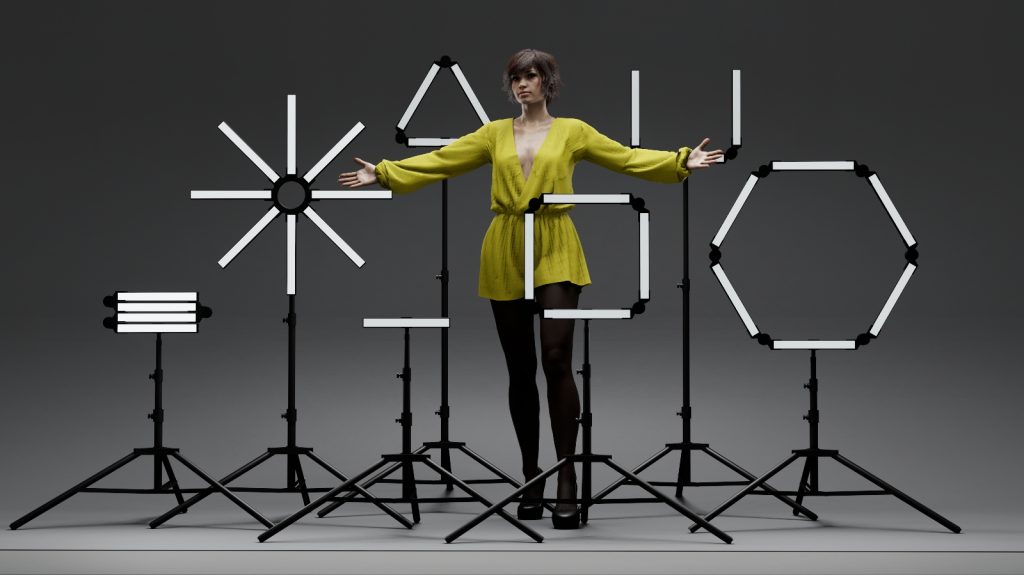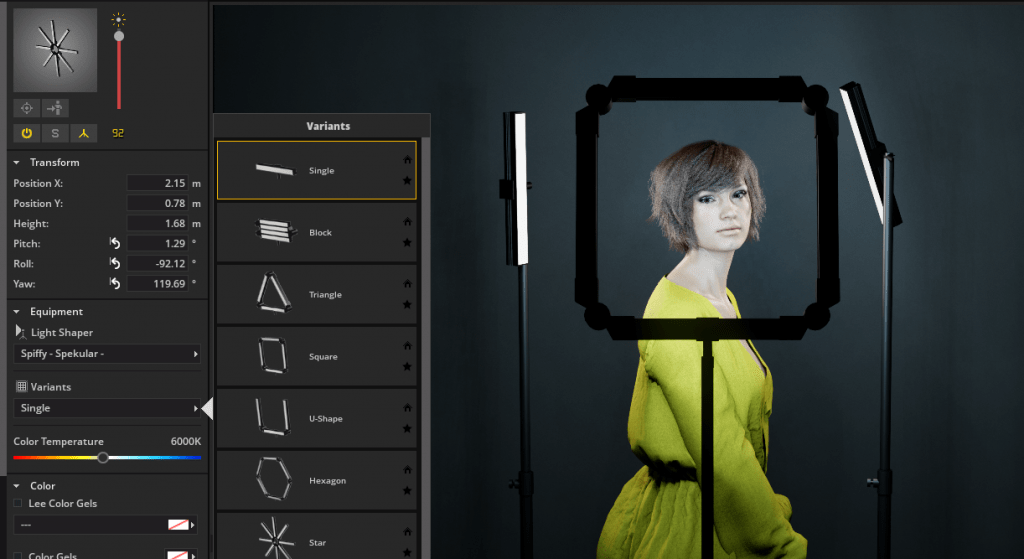 New LED TUBE (Astera Titan Tube)
This tube is not only popular among filmmakers, but also great for event lighting and creative photoshoots, as it is extremely versatile, wireless and works on battery power. As lots of you asked for this light, here it is! Now you can simulate your Titan Tube setups in set.a.light 3D.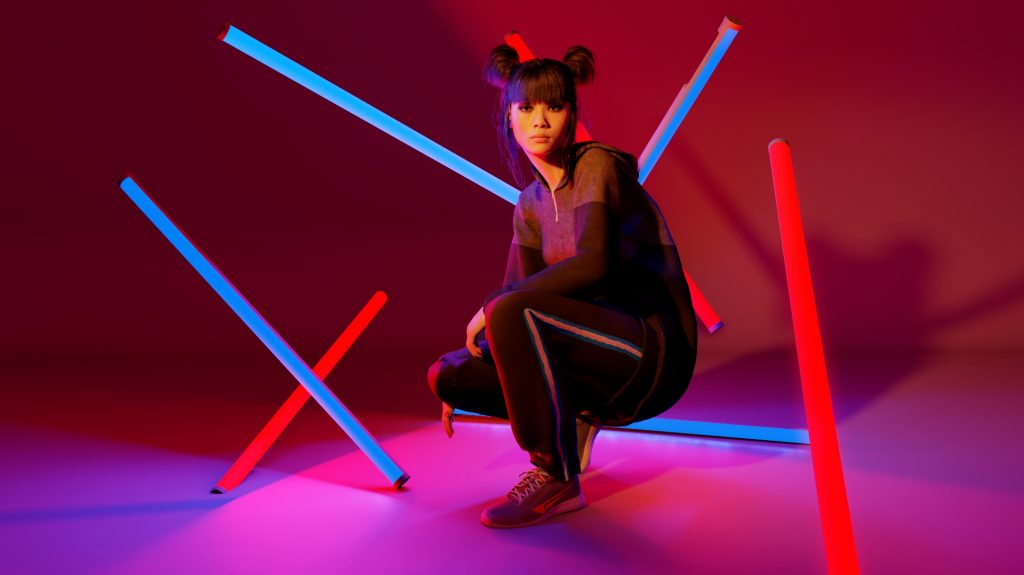 More new permanent lights
We have listened carefully to your wishes for more lights in set.a.light 3D. What was asked most often has now made it into the new release. We`ve added Aputure LS C300D MKII (initially only available with reflector) and various KinoFlo Lights to the stock of permanent lights, which can be found in the studio library. Feel free to contact us if you have any specific requests. We appreciate your feedback very much.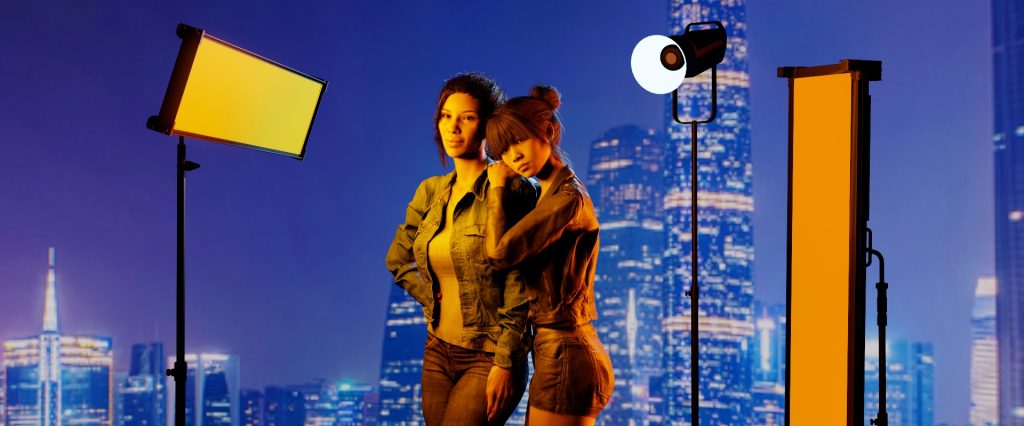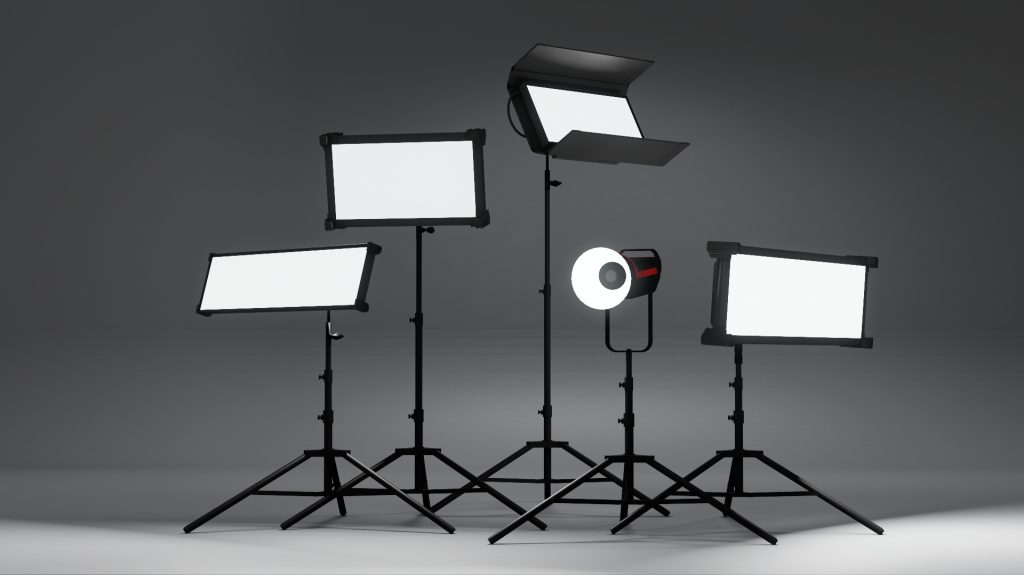 New video camera
Now it is possible to turn the photo camera into a video camera. The video camera can be found in the studio library in the tab PROPS (Basic) or just select the camera that is already placed in the setup and change it to a film camera in the detail settings on the left. New specific setting options appear directly in the preview camera, like the new "frame rate" or a new "shutter" setting.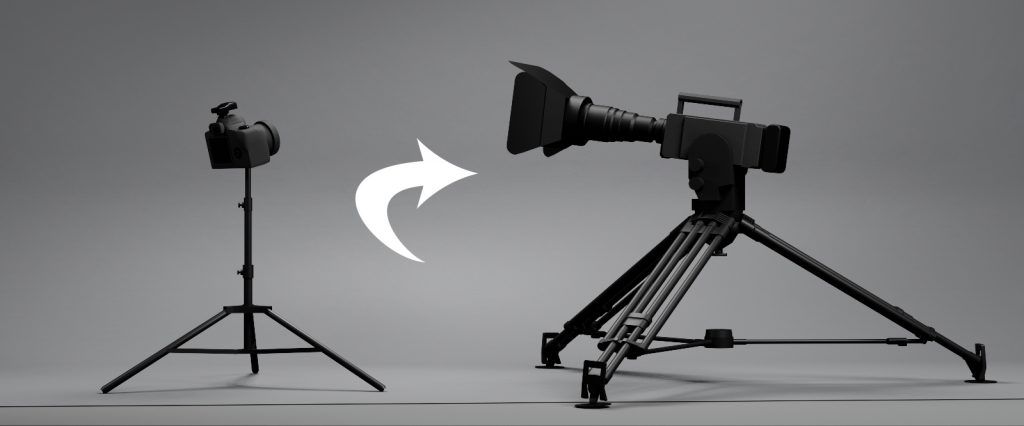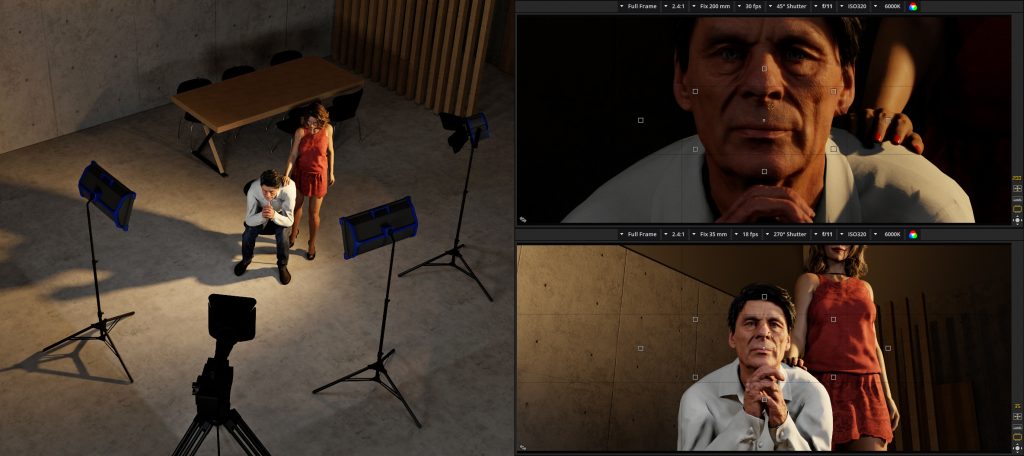 New lifelike avatars with lots of new styling options
With Alexandra and Kim two new lifelike avatars join the set.a.light 3D family. They are even more lifelike than the models so far and extremely versatile. Try it out and create your own unique character.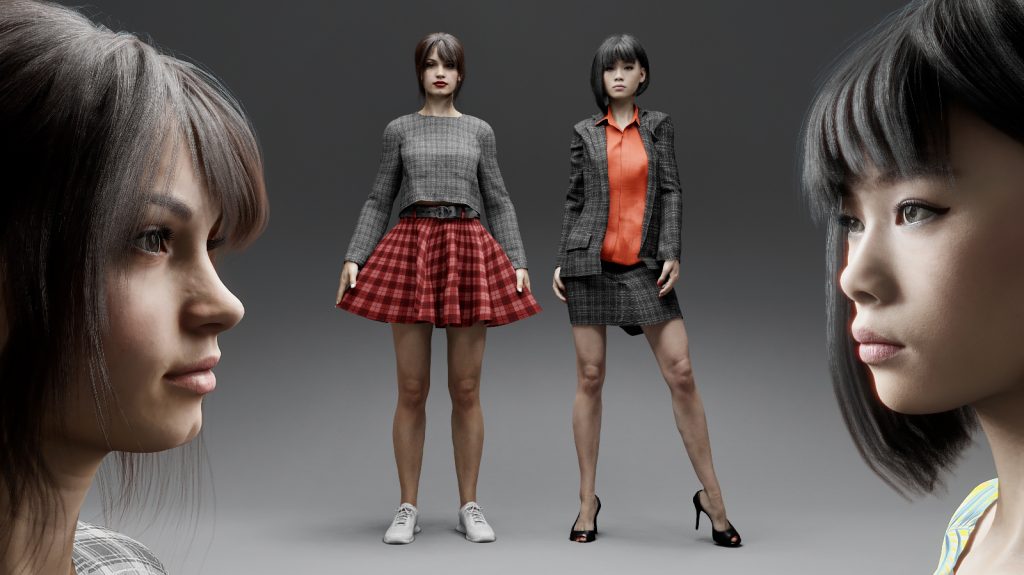 New hair & make-up styles
Are you looking for a more fancy fashion makeup for your lighting setup? This update comes also loaded with lots of new & more realistic hair and makeup styles, you will love!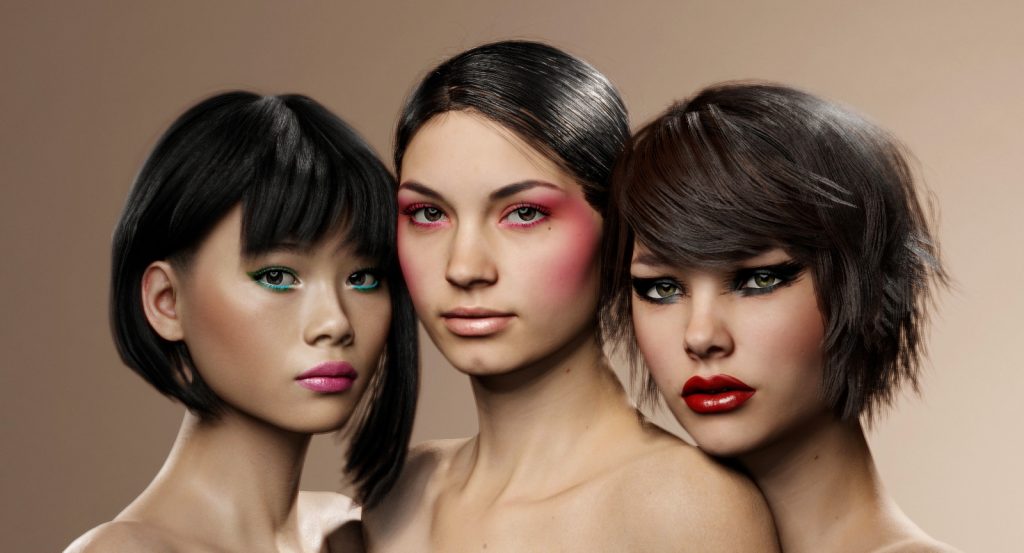 New clothing options
We have also added many new clothing options for all avatars with this update, to give you the possibility to customize the models according to your ideas. You will find for example new swimsuits, gloves, stockings, tights, but also new business outfits in the wardrobe. Here are some examples. For some clothes you can also change the texture. This expands the diversity again immensely.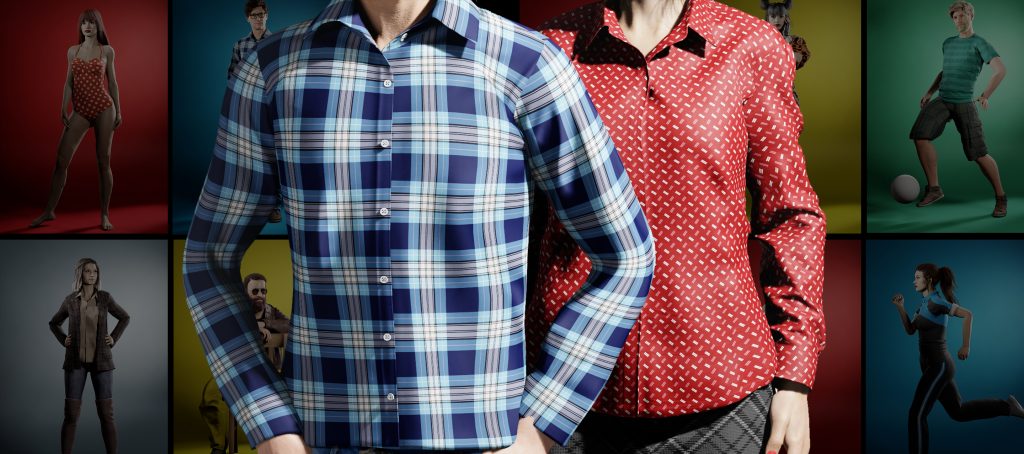 New beard option
Beard or no beard? All male models have now the option to wear a beard. The spectrum ranges from three-day beard to full beard.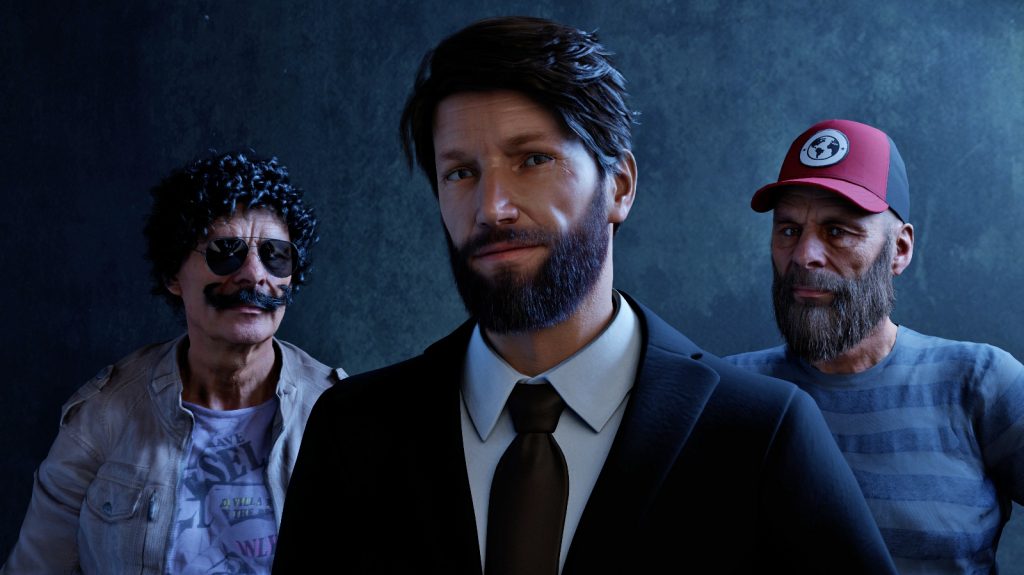 Adjust the body proportions
The avatars were too slim for you so far? Now it is possible to make the models more voluminous using individual sliders for specific body parts. When a model is selected, these can be found in the detailed settings in the tab "Body", next to the controls for hands and feet. You can adjust individual parts of the body such as: Arms, Chest, Breasts, Belly, Pelvis and Legs.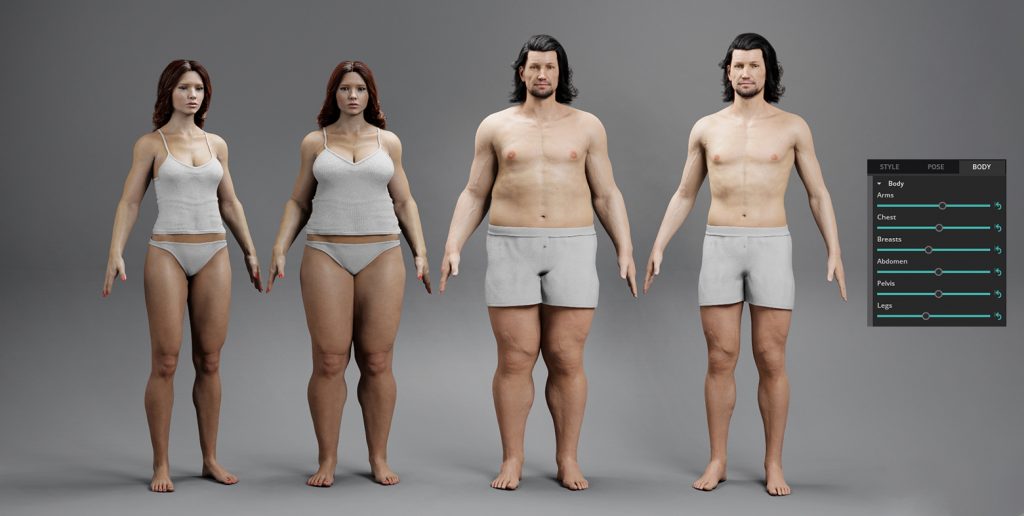 Viewing direction of the models adjustable
Previously, the model could look straight ahead, or look into the camera. Now it is possible to control the viewing direction of the models individually. It is a small innovation but with a huge effect.

Here's how it works:
As before, the button with the "Rotate Eyes towards Camera" icon must first be activated in the Quick Menu, so that the model looks into the camera. Next to this icon now appears the button for activating the editing mode, the "Look at Mode". When this is activated eye symbols show up next to the camera and at each light source. By clicking one of them, the model can now look at the desired light or the camera. To adjust the viewing direction individually, the yellow handle next to the model can be moved freely. HERE you will find a Quicktip Clip.

New Content (3D objects)
The pool of 3D objects has been expanded with a variety of new content. Discover new furniture pieces, a bike, curtains, accessoires and food items, that will make your setups even more complete and open up new possibilities.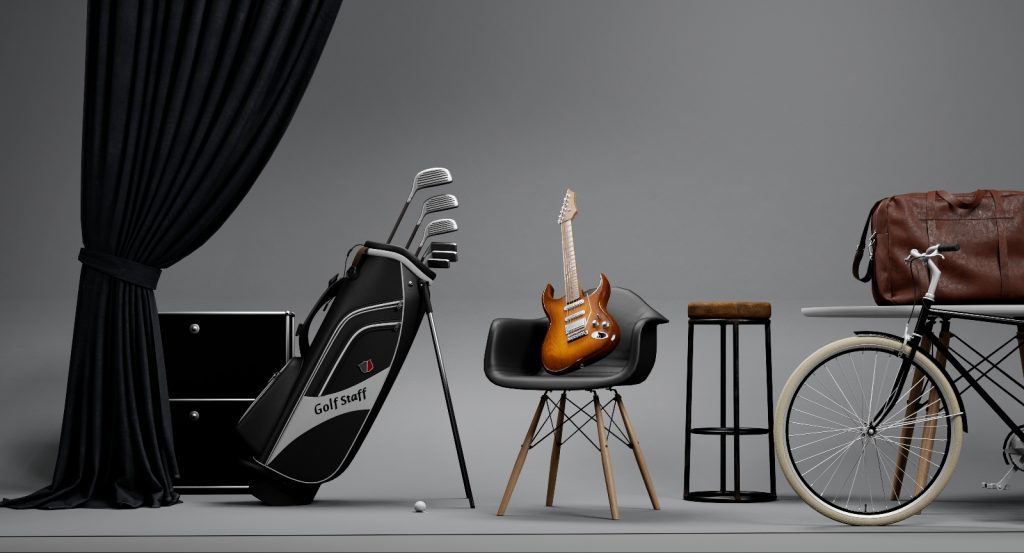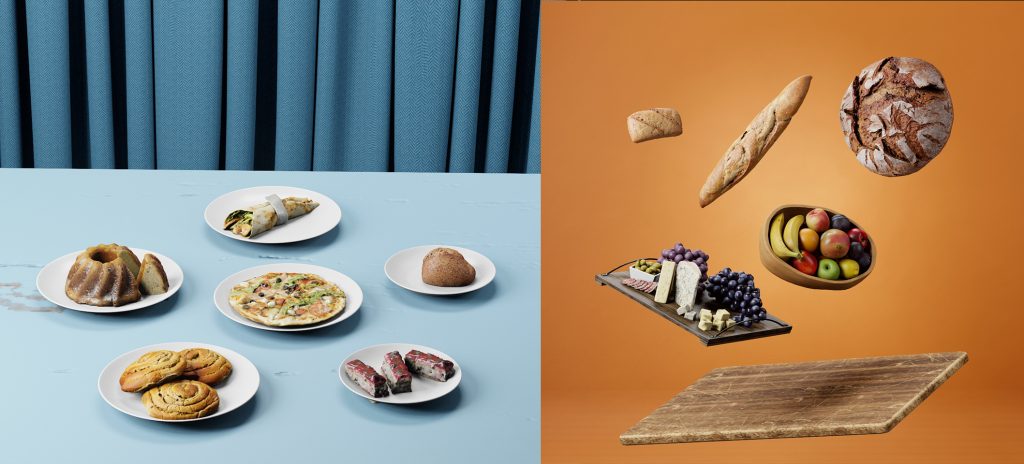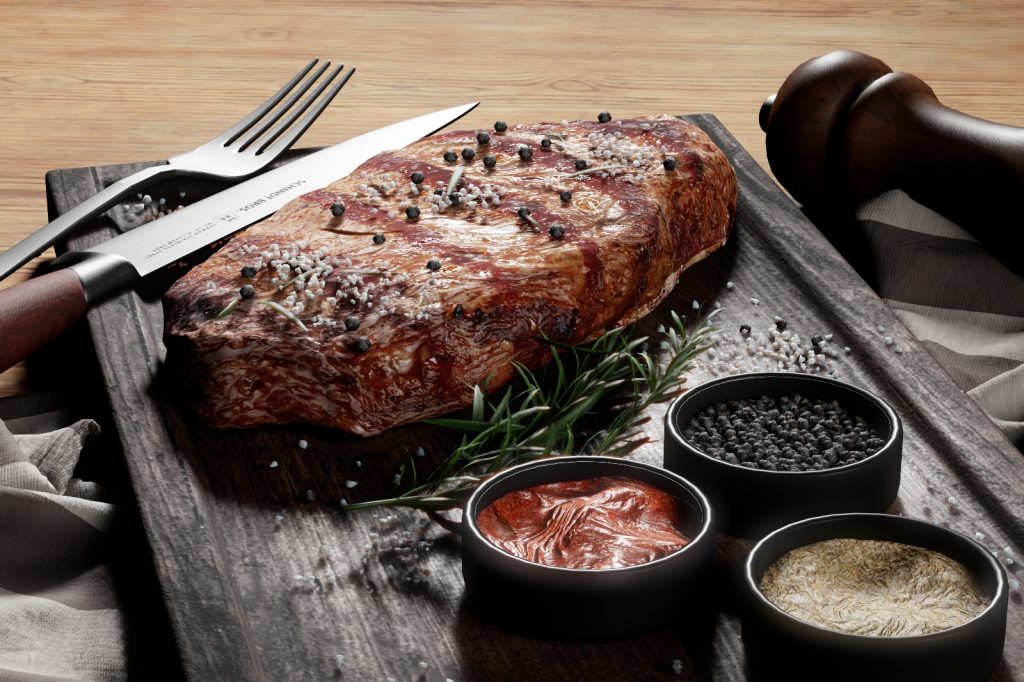 Other enhancements
(Full Release Notes )
NEW: Model Alexandra
NEW: Model Kim
NEW: Viewing direction of the models adjustable
NEW: 11 new hairstyles for female models
NEW: 5 beards for men
NEW: A lot of new clothes and combination possibilities (man and woman)
NEW: 45 new props (incl. food and bicycle)
NEW: Diffusor panel – Scrim (size adjustable)
NEW: Video camera
NEW: More lenses
NEW: More permanent lights (Spiffy Gear Spekular, Titan Tube, Aputure LS C300D MKII, various KinoFlo)
NEW: 7 new softboxes for speedlights
NEW: Body proportions adjustable (in Tab Body)
NEW: Lots of new gobo masks added
UPDATED: Removed render button in preview camera, now there is only the snapshot button. (Images can still be rendered in Tab VIEW)
UPDATED: Timeline elements can now be loaded in the studio by double clicking. (The "Load in studio" icon is removed.)
NEW: Korean language added
Select objects and rotate them together etc. and copy them (e.g. into new snap)
Many detail improvements and fixes
Trial period reset, everyone can test the software again
A lot of love from the developers integrated
NOTE: From V2.5.3 to V2.5.5 must be reinstalled, an update from V 2.5.3 via Patcher is not possible. All personal settings are retained.
Join a growing community of photographers, filmmakers and artists
We love seeing your incredible creations made in set.a.light 3D, whether they are freshly planned ideas and lighting setups for your next shooting, frame recreations of your favorite movie, lighting tutorials, that help other creators to grow or 3D art. For this, we integrated the community directly to set.a.light 3D. Just switch to the community in the top tab bar and start connecting with other setalighters. When you`re sharing your creations on Instagram, don`t forget to tag them with #setalight3D. Follow us on Instagram @elixxiersoftware and on Facebook @elixxier.
Learn more about the community HERE.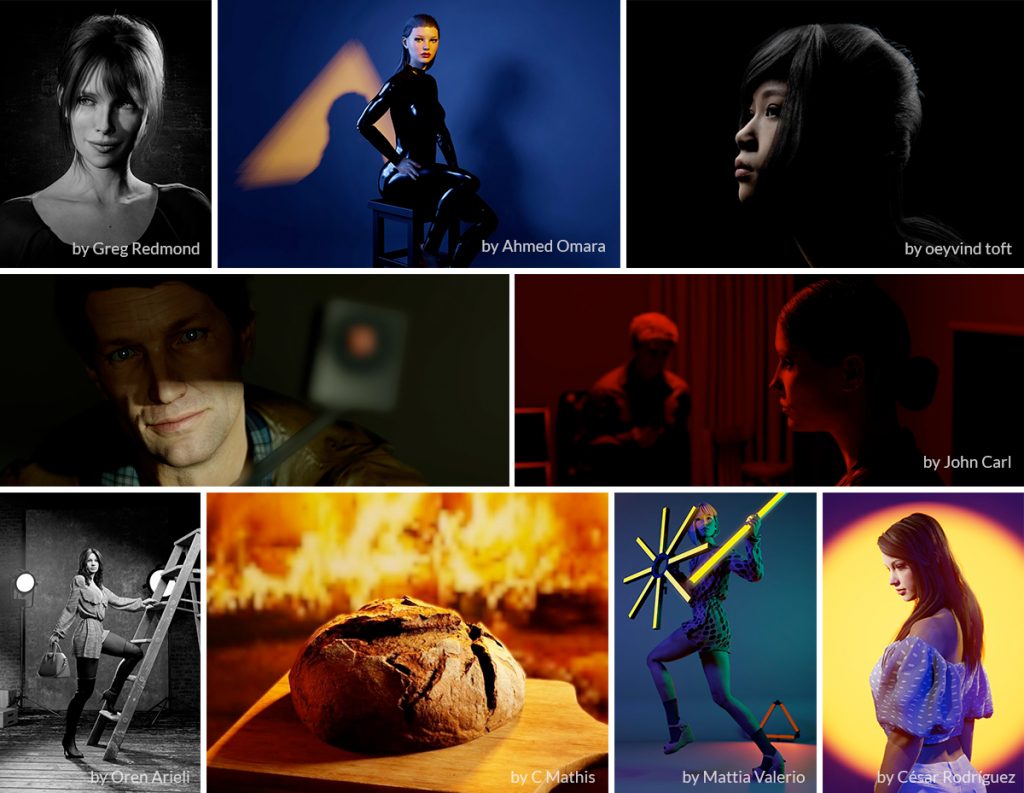 This post is also available in: German