There is great news: The set.a.light 3D community gets an update and is now also available on the web! In this article, you'll learn all about the changes, the new features, how you can help other community members, and how you can use the power of the community to get your own questions answered before your next shoot.
What's New?
Access the community via the web
The community is now also available on the web! That means you don't have to start your set.a.light 3D anymore to check what's new and you can browse through the numerous lighting setups directly in your browser. Learn new techniques, mark favorites, write comments and access your own setups faster than ever before.
👉 Community Web-Access:
https://community.elixxier.com
How to log in:
To log in, you will need your email address and the password you used when you signed up for the community in set.a.light 3D. If you don't remember your password, you can reset it on the community website on the login form.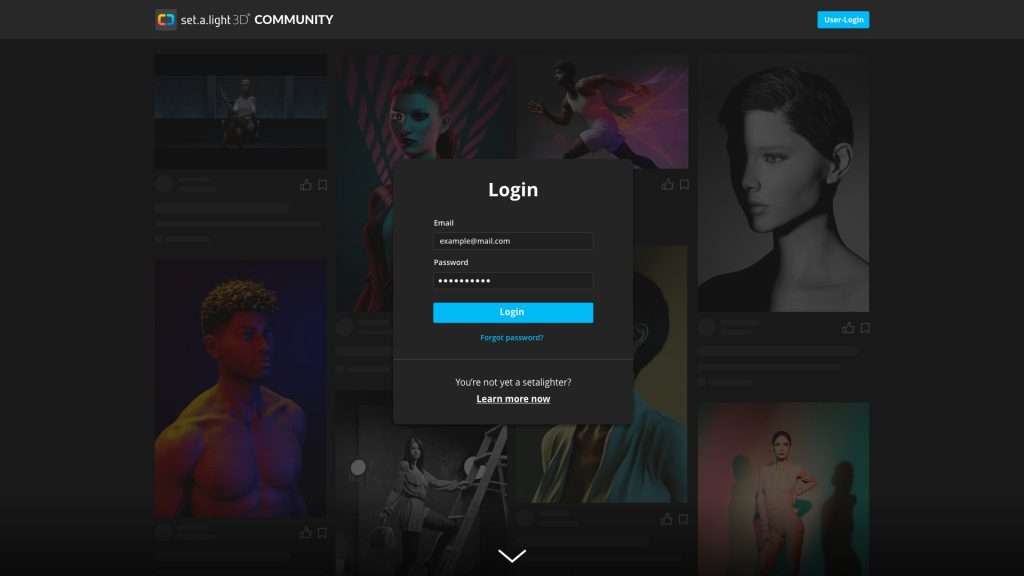 General makeover, faster loading times & feed adjustments
To provide a better user experience, we have relaunched the entire system behind the community. This improves the performance of the community enormously and the speed with which the lighting setups are displayed is greatly accelerated. By migrating to the new system, we are now also more flexible in the further development of the community. So stay tuned for more to come.
Then there are some minor adjustments in the design. The lighting setups feed now displays creator info directly below each image and also touches on the description text, making it easier for you to see what might be interesting to look at more closely. Plus very wide landscape formats, such as those you use for movie scenes, are now placed on a dark background tile, so they stand out more than before in the feed.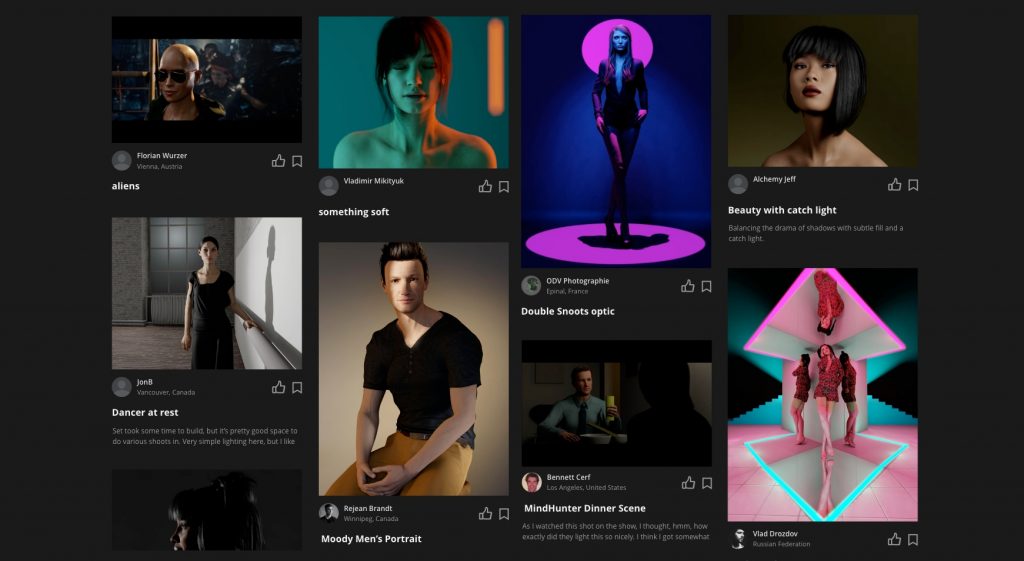 Upload images and setups to comments
You can now upload images and setups in a comment under a lighting setup, making it much easier to discuss about lighting.
(Setup up- & download only possible directly in set.a.light 3D)
New Feature: Ask the Community!
You have a question on the tip of your tongue? Ask the set.a.light 3D Community! Our newest feature "Asks" gives you a place where you find answers to your questions about lighting, equipment and shootings.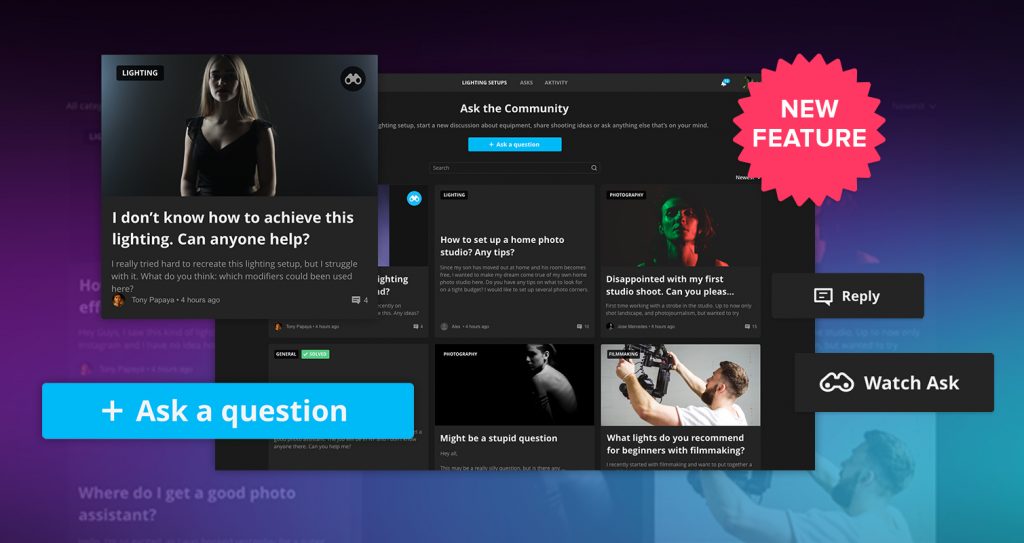 As a creative, you want your shoot to run smoothly and to get the results you desire. What you don't want are open questions, whether it's about the right equipment for your next shoot or uncertainty about which lens to use. To make sure there will be no questions left unanswered, and to help you prepare better, there's now the ASKS-Feed in the Community.
How it works? With the power of the community, of course! We all have made experiences that can help others and a community consisting of professional photographers, filmmakers, amateurs and hobbyists always knows the best answer! The Asks feed is about getting help and helping others – and every setalighter benefits from it. Join in on exciting discussions about lighting and pre-production and learn even more about the other creatives in the community.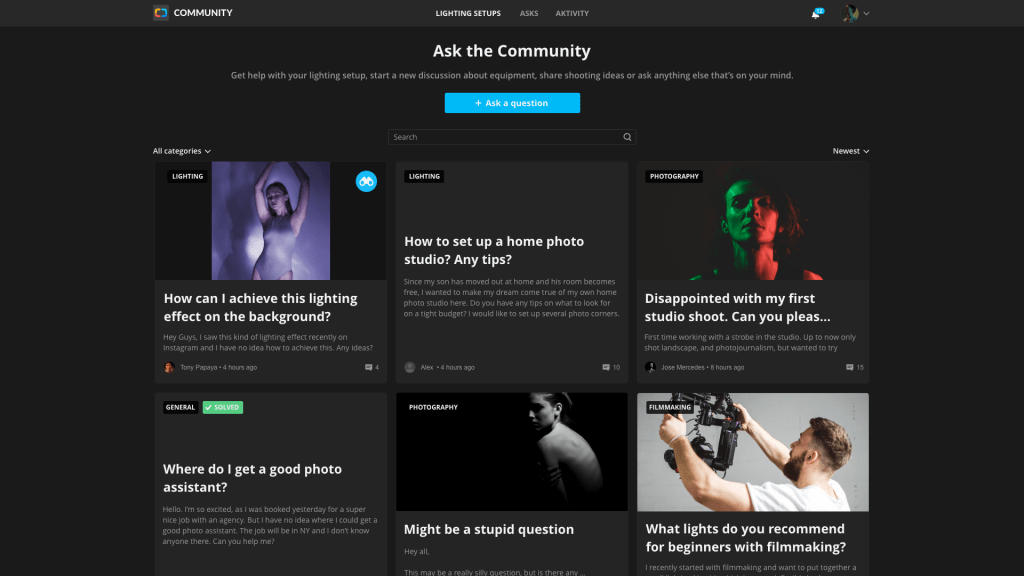 How it works
Posting an ask
Click the "Ask a question"-Button
Add your question or thoughts in the window that pops up
Set a title and choose a category that fits best to your ask
Add images or upload a lighting setup from your timeline
Choose a cover
Click "Post" to publish your ask
Once your ask is published, you will find it on your profile as well as in the asks-feed. If you made a mistake, you can edit it any time.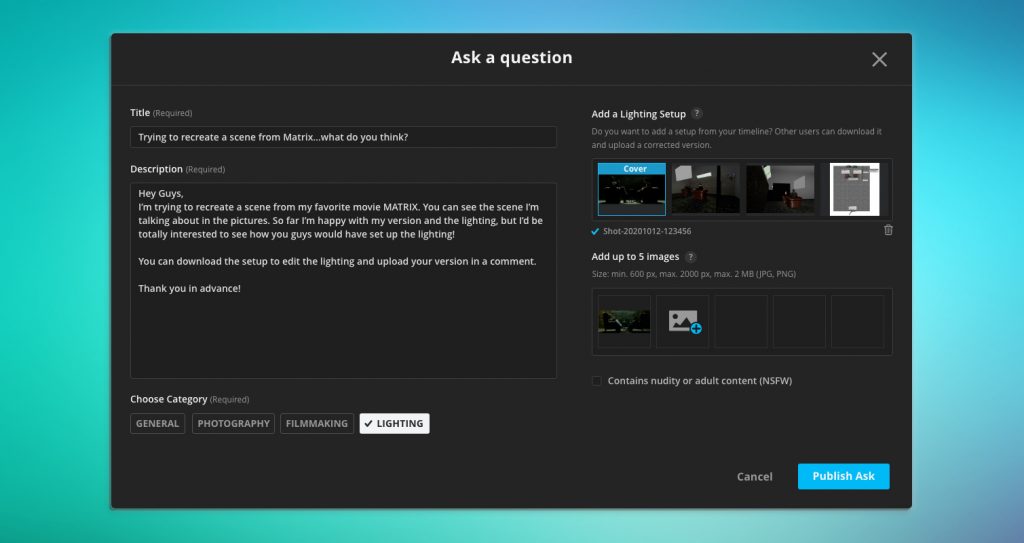 Help other users by answering questions
To help a user with a question, you can write a comment and join the discussion. You can also post a picture or upload a setup.
Upvote/Downvote an answer
If you think there's a useful answer, upvote it. If you think that an answer does not contribute to the solution or does not fit the topic, downvote it.

Mark the best answer to close your ask
As an ask creator, you can close your ask, so that other users know, that no more help is needed. To do this, mark the best answer and the ask will be marked as "Solved".

Watching an ask
There is an ask you are interested in and you want to follow its progress? Click the button "Watch ask", you will be informed about the progress of the discussion in your notifications and will never miss a new answer.

Adjustments to user profiles
We have created a new section in the user profile settings to help you create a better representation of you. Now you can choose your "Specialty" (Photography, Film, Art, Design) and your "Level" (Student, Amateur, Hobbyist, Professional, Educator) to better introduce yourself to the other community members. This info will be displayed directly under your username on your profile page. And finally links are now clickable, so you can add your website to let people know even more about you and your work.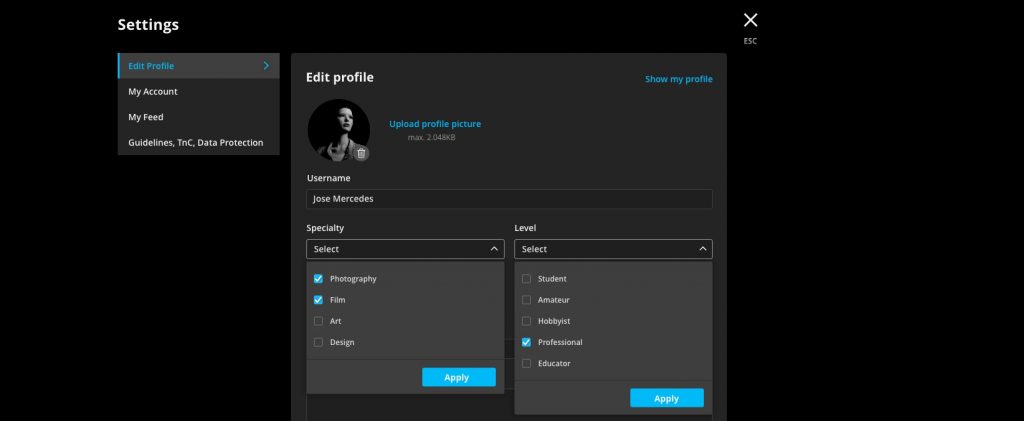 To edit your profile information navigate to your avatar in the top right corner. Click on it, a drop-down menu will appear. Now click "Edit profile / settings" and start editing your profile information.
Head over to your profile to update it. :-)
Get discovered and increase your visibility by tagging your profile with your skills, specialties and expertise, making it easier for others to find and connect with you.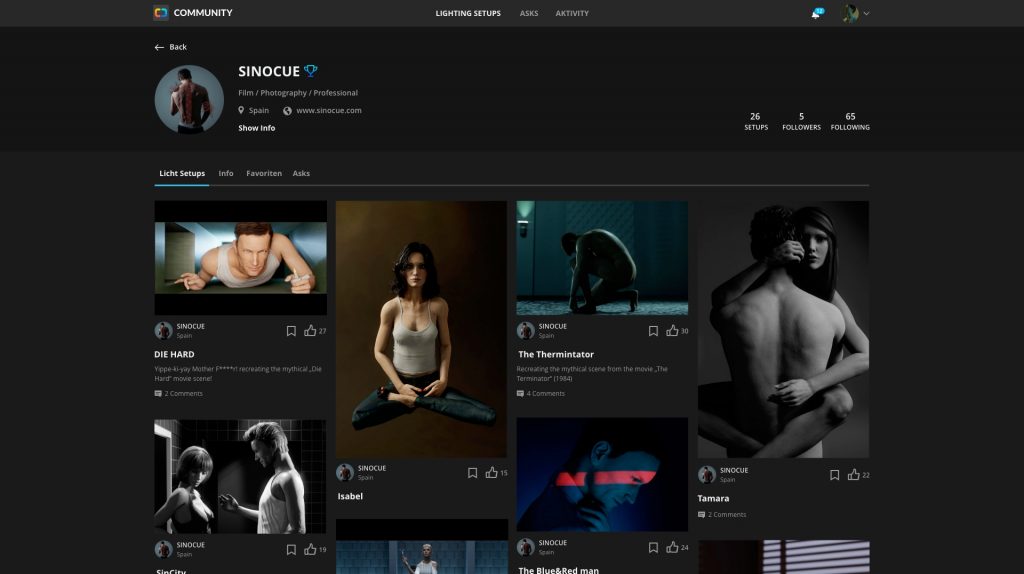 Ready to try it out?
See you in the Community 🙃
We can't wait for you to make use of all these new features in the set.a.light 3D Community. And as always, we're looking forward to your feedback so we can help you get the best out of set.a.light 3D. If you have any questions or thoughts you can always contact us via the contact form or social media.
Your elixxier Team
♥ DEVELOPED WITH LOVE ♥
You don't know the set.a.light 3D Community yet?
The community is all about empowering creativity and providing you with the possibility of learning new lighting techniques from creatives world wide at your own pace. Browse through a growing archive of lighting setups and get inspired, showcase your work, gather feedback and discuss.
Learn more here or watch the video below to learn how it works.
This post is also available in: German