There is a new update! Get the patch now to version V2.5.8c
Update at a glance
V2.5.8c
Patch for version 2.5.8(a)
NEW: Autosave (Saving a backup every 6 minutes)
NEW: The camera can now be focused manually (in the detailed settings)
The room can now be enlarged up to 100 meters
Continuous light can now be replaced directly by monolight (drag & drop)
Bugs fixed
The update has a size of 34 MB for Windows and 55 MB for MAC
The novelties in detail
Autosave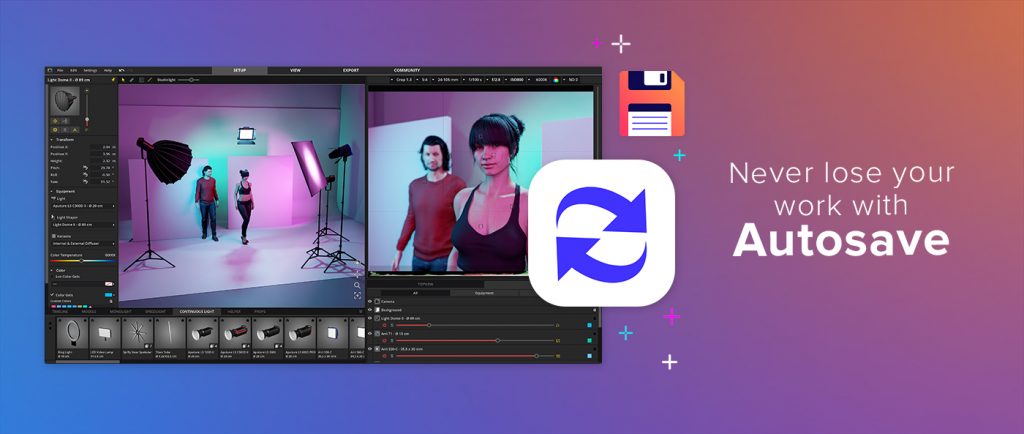 Your work is valuable. And should it happen that set.a.light 3D crashes or hangs and you forgot to save, it's annoying to have to start all over again. That's why there is now the new autosave function!
Starting with version 2.5.8c there is a new feature that automatically creates a backup copy of your open file in the background every 6 minutes.

If set.a.light 3D crashes or hangs unexpectedly due to a problem, you can fall back on this autosave file and restore your work (with a maximum loss of 6 minutes). This autosave file ( filename.autosave.set ) is located in the same location as your main file.

Note: The autosave function only protects you from losing data in case of a crash! The autosave file is automatically deleted when set.a.light 3D is closed regularly. If you accidentally close set.a.light 3D without saving, your data will be lost. So you should generally secure your work by saving frequently.
This is how you restore your file after a crash:
1. Navigate to your project folder where you saved your file.
2. Search for the autosave file ("Your_Filename.autosave.set") and open it.
3. Save the file under a new name ("filename.set").
4. Continue with your work.
Manual focus of the camera

Previously, the focus could be set automatically using the focus points in the preview camera simply by placing the focus point on the desired object.
Now the focus can also be defined manually in the detail settings of the camera. :-)
Activate the manual focus here: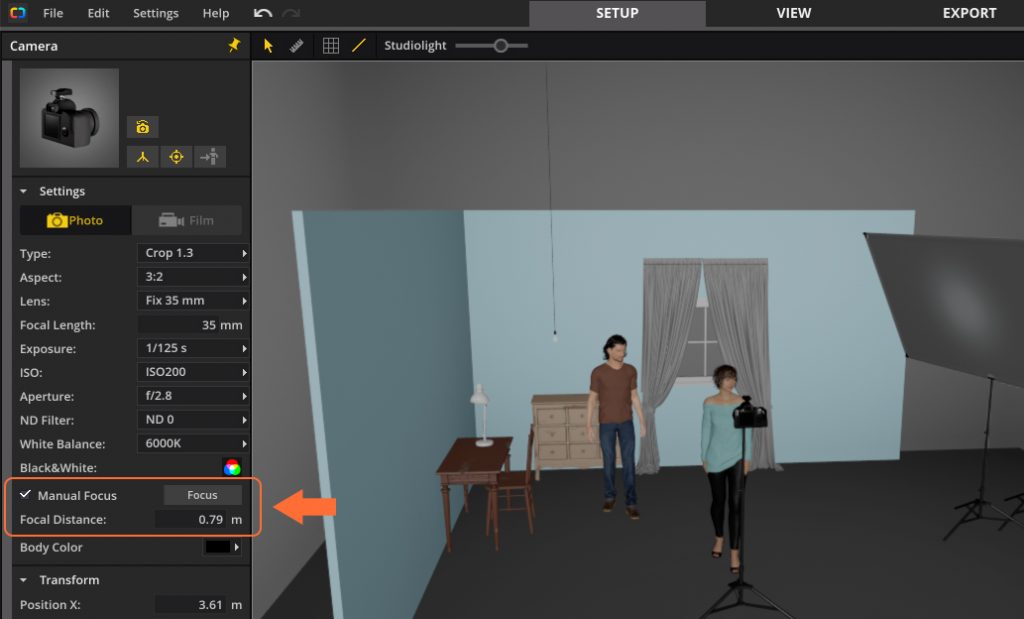 You can now set the focus distance individually. While you change the distance, the yellow crosshairs in the studio area shows you the focus plane.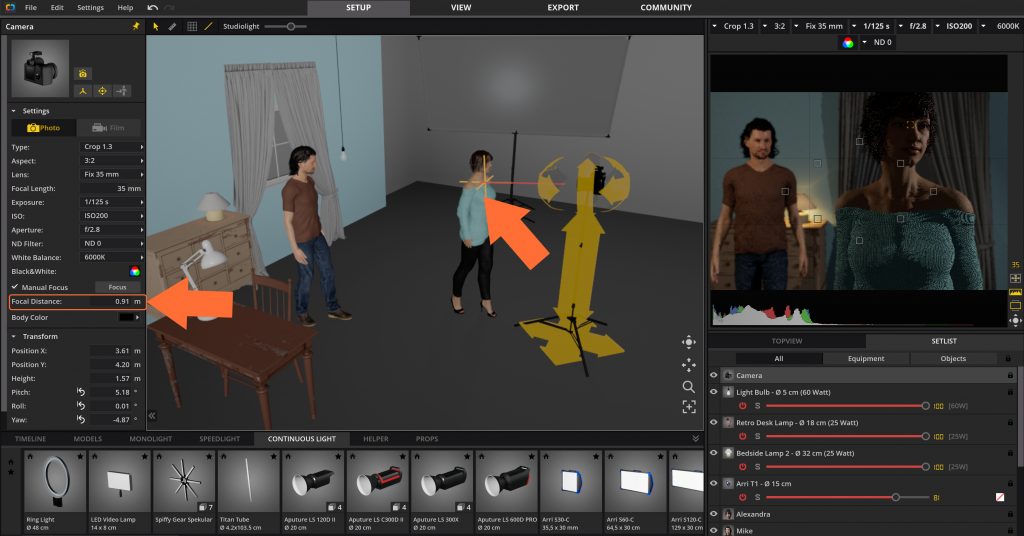 (If you don't see the crosshairs, make sure that the "Laser pointer" (Menu bar → Settings) is active).

When you click the "Focus" button, the focus is automatically set to the focus point selected in the preview camera.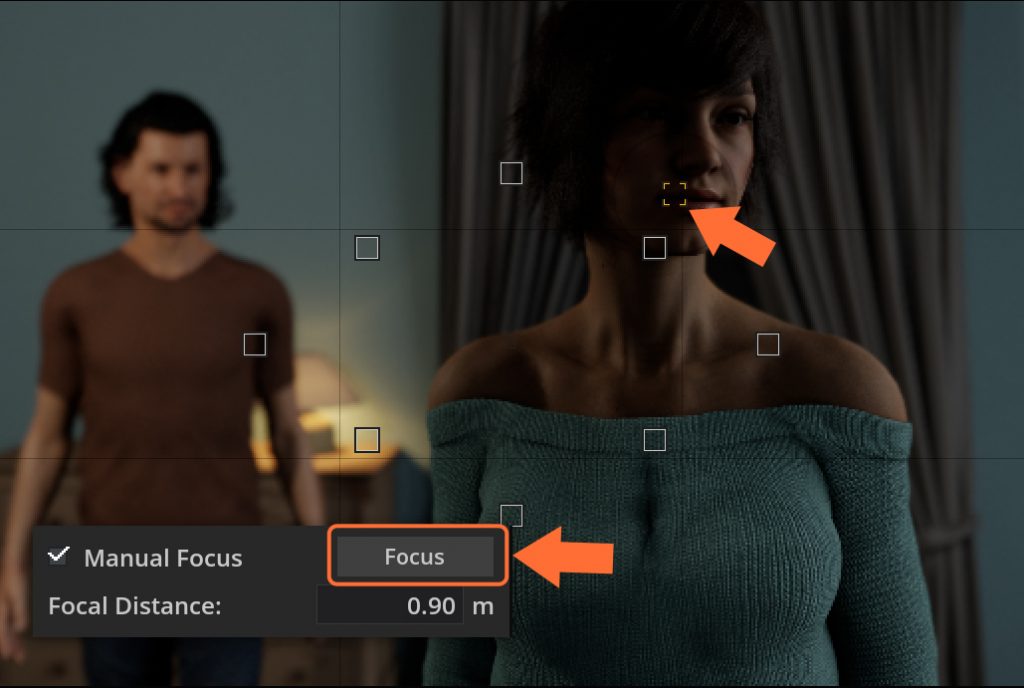 Larger rooms
In the past we've seen all kinds of files from you where you've maxed out the room size or couldn't fit your set in. Therefore, we have now enormously extended the previous limit of 30 meters. The room can now be enlarged up to 100 meters. So now you can build very large sets :)
Replace continuous light & flash light via drag & drop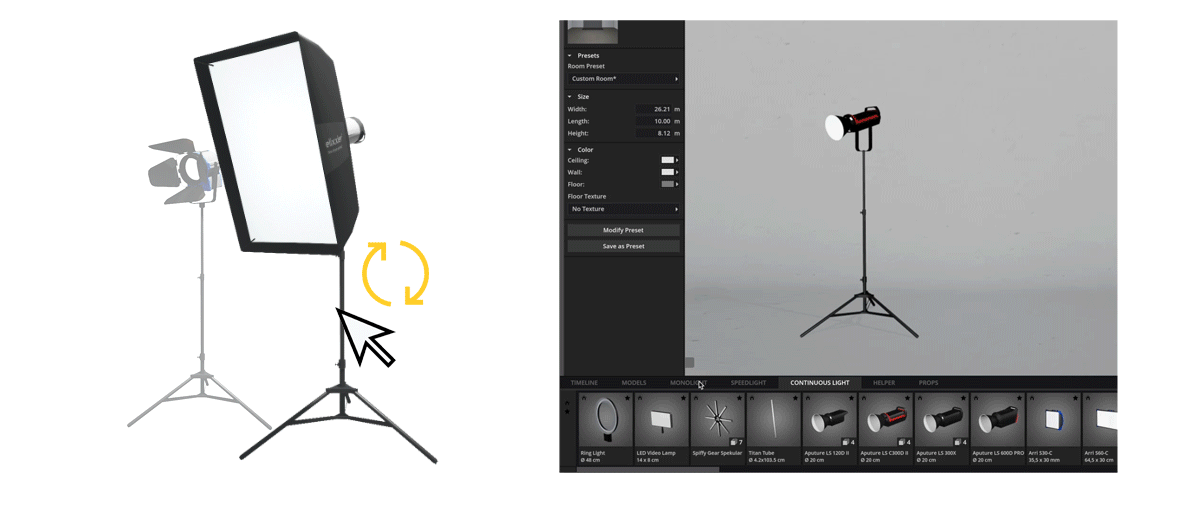 Previously, within a light category, the lamps already placed in the studio could be conveniently exchanged by dragging and dropping. However, this possibility did not exist between lights of different categories. Now this is also possible.

Simply drag a new light of any category from the studio library into the studio over the position of an already placed light and it will snap to that position and be exchanged.
How to get the update
This update is FREE for all V2.0–2.5.8 users. To get it, all you have to do is start your set.a.light 3D. The update option will be displayed immediately; just select it. (set.a.light 3D requires an internet connection).
Alternatively you can also reinstall after downloading the latest version here.
(During the reinstallation, all personal settings, etc. are preserved.)
You don't know set.a.light 3D yet?
Get to know the world's most advanced and intuitive virtual 3D studio for photographers, filmmakers and creatives that lets you plan lighting, test ideas and visualize scenes.
Visit our website for more information and check out our Free Trial Version if you haven't tried our software before. set.a.light 3D is available for Mac and for Windows.
Website: www.elixxier.com/en
Facebook: www.facebook.com/elixxier
Instagram: www.instagram.com/elixxiersoftware
YouTube: www.youtube.com/c/Elixxier
This post is also available in: German